Epicenter Youth
1 Timothy 4:12 says "Don't let anyone look down on you because you are young, but set an example for the believers in speech, in conduct, in love, in faith and in purity." At Epicenter, our focus is to be the center of what God is trying to do in the world around us.
How do we do that? Epicenter offers a variety of events from student leadership, weekly youth meetings, weekly Connect and Grow groups, summer camps, mission trips, service projects, bible quizzing, and special events such as concerts and lock-in's.
Student Leadership
H
ere at PFWC we believe that the youth of our church are not just the church of tomorrow but today as well.  To many churches want to have their students entertained, we all enjoy being entertained but we also want to raise up a generation of leaders that will impact the world in a positive way both now and in the future.  This is why we have Student Leadership here at PFWC.
A student leader at Epicenter is someone who carries him/herself in such a way as to clearly reflect the image of God in all aspects of his/her life. He/she will work very hard to be a leader in school and church, as well as in all other walks of life.
We have high expectations for those on the Student Leadership here at PFWC but there are also several benefits.:
Leadership training and experience
Atmosphere to grow and mature your spiritual and personal life
Student Leadership Team Retreat
Being part of a team that's making a difference in our community
Looks great on college applications and resumes
If you are interested then fill read the job description, fill out the application and turn it in to the office.
Epicenter Youth Midweek
This takes place on Wednesday nights at 6:30.  Currently each week is different with a different theme.
Elevate – This is organized by Leikeith Saunders and is an evening focused on worship of God along with a devotional on the same topic. This is held on the first Wednesday of each month.
Illuminate – This is organized by William Phillips and takes place on the second Wednesday of each month.  During this evening the teens are encouraged to bring their unchurched friendsand hear the gospel.  There will be various special speakers brought in this evening.
Vindicate – This will be led by Pastor Myron and is based on issues that teens suggest.  It will be an apologetics evening that gives teens an explanation for why we believe what we do.  This takes place on the third Wednesday of each month.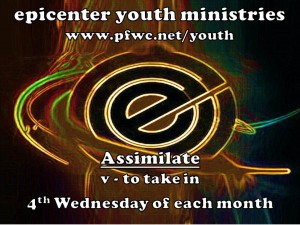 Assimilate – This is organized by Samatha Parsons and is an evening where a devotional is shared and the teens are connected together through a variety of interactive events. A applicable lesson will be shared during this time also.  This is held on the fourth Wednseday of each month.
Contemplate – This is only held on the fifth Wednesday of each month.  This is a Q & A time that will be led by Pastor Myron, Mandy, and others.
Activities
Our goal at this time is to have at least two activities per month. One activity will be outreach oriented and fun.  This could be going to Thunder Valley, having a lock-in, going to a concert or something else.  These events will help the teens to connect together and grow stronger in unity.
The second activity will be Activate.  This could be going to the rescue mission, helping out an individual in need, working at Blue Ridge Women's Center, or any number of service events. These events will help the teens become others centered rather than self-centered.
Big Events
These big events consist of Follow Youth Convention, Spring Youth Weekend with special speaker and activities, Teen Camp, etc.   These will cost something but the investment will be worth it.
C.G. Group (aka Sunday School)
Pastor Myron begins teaching this class on November 4th.  C.G. groups are a great way for students to get connected with each other and grow in their faith.  Here's what's happenin:
February and March –We will be using a curriculum called, Underground Reality. This is a nine-session study that challenges and provokes teens to live a faith worth dying for. As they learn about eight teenagers who smuggled Bibles into communist-controlled Vietnam their eyes will be opened to the hardships faced by countless Christians around the world.
April and May – We will be using a curriculum called the 24/7 Experience.  This is a DVD curriculum on following Jesus every day. If your kids like reality TV, they'll love this cross-country journey with teens who interview Christians that are making a real impact on the world. Meet a recording artist, a college minister, a TV producer, and others! Seven episodes feature discussion questions on following Jesus, love, justice, spiritual gifts, and more.
Keep up with us on Facebook
http://www.facebook.com/groups/176917795678305/
Keep Checking back for more exciting events!